Continent shedding 160 billion tonnes a year, CryoSat-2 shows, just days after warning over western ice sheet's collapse
Damian Carrington
theguardian.com, Tuesday 20 May 2014 02.08 AEST
Antarctica is shedding 160 billion tonnes a year of ice into the ocean, twice the amount of a few years ago, according to new satellite observations. The ice loss is adding to the rising sea levels driven by climate change and even east Antarctica is now losing ice.
The new revelations follows the announcement last week that the collapse of the western Antarctica ice sheet has already begun and is unstoppable, although it may take many centuries to complete.
More sea turtles will be born female as climate warms, study shows
Once the sands in which eggs incubate grow too hot, population could become entirely female – risking the reptile's extinction
Michael Safi
theguardian.com, Tuesday 20 May 2014 09.33 AEST
Hotter sands triggered by a warming climate could cause greater numbers of sea turtles to be born female, increasing the reptiles' numbers in the short term, research shows.
But the study, published in the scientific journal Nature Climate Change, warns that once the sands in which sea turtle eggs incubate grow too warm, the population could become entirely female, risking the animal's extinction. Read More
Last week saw a 'holy shit' moment in climate change science. A landmark report revealed that the collapse of a large part of Antarctica is now unstoppable
Eric Rignot
The Observer, Sunday 18 May 2014 05.30 AEST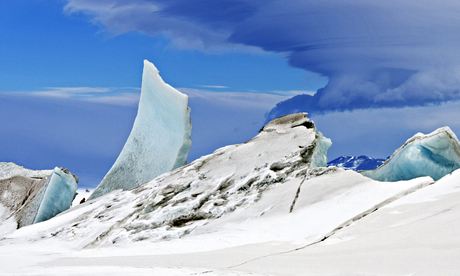 Last Monday, we hosted a Nasa conference on the state of the West Antarctic ice sheet, which, it could be said, provoked something of a reaction. "This Is What a Holy Shit Moment for Global Warming Looks Like," ran a headline in Mother Jones magazine.
We announced that we had collected enough observations to conclude that the retreat of ice in the Amundsen sea sector of West Antarctica was unstoppable, with major consequences – it will mean that sea levels will rise one metre worldwide. What's more, its disappearance will likely trigger the collapse of the rest of the West Antarctic ice sheet, which comes with a sea level rise of between three and five metres. Such an event will displace millions of people worldwide. Read More