by Liz Gallagher, rtcc.org
Few announcements expected, but meeting offers opportunity to build relationships ahead of Ban Ki-moon summit
Coming off the back of the Abu Dhabi Ascent, and the jubilation at the recently announced agreement in the Green Climate Fund (GCF) meeting, Bonn looks to be just another stage post en route to Paris in 2015.
But the Bonn intercessional this June is more than just a normal negotiation. Ministers have no sooner disembarked from their transportation out of the luxury oasis of the desert, to step back in it to reach the not so glamorous Maritim Hotel, Bonn.
The unusual suspects at the intercessional are the result of strong calls by the most vulnerable countries for Ministerial engagement to focus on raising ambition from now until 2020.
What this means in practice is two Ministerials: one for those who already have existing commitments through the Kyoto Protocol to provide details on how they could increase ambition; and one for everyone to demonstrate what actions they are taking pre-2020.
It is unlikely that this short window of opportunity will result in new announcements to increase pledges before 2020.
After all, the Climate Summit hosted by Ban Ki-moon is where Heads of State will come with 'bold' pledges; they're not going to let their subordinates steal their thunder by announcing in June.
http://www.rtcc.org/2014/05/26/why-do-next-weeks-un-climate-talks-in-bonn-matter/#sthash.UHFm5Pep.dpuf
Press Release No 991, 26 May
Geneva, 26 May 2014 (WMO) - For the first time, monthly concentrations of carbon dioxide (CO2) in the atmosphere topped 400 parts per million (ppm) in April throughout the northern hemisphere. This threshold is of symbolic and scientific significance and reinforces evidence that the burning of fossil fuels and other human activities are responsible for the continuing increase in heat-trapping greenhouse gases warming our planet.
All the northern hemisphere monitoring stations forming the World Meteorological Organization (WMO) Global Atmosphere Watch network reported record atmospheric CO2 concentrations during the seasonal maximum. This occurs early in the northern hemisphere spring before vegetation growth absorbs CO2.
Whilst the spring maximum values in the northern hemisphere have already crossed the 400 ppm level, the global annual average CO2 concentration is set to cross this threshold in 2015 or 2016.
"This should serve as yet another wakeup call about the constantly rising levels of greenhouse gases which are driving climate change. If we are to preserve our planet for future generations, we need urgent action to curb new emissions of these heat trapping gases," said WMO Secretary-General Michel Jarraud. "Time is running out."
CO2 remains in the atmosphere for hundreds of years. Its lifespan in the oceans is even longer. It is the single most important greenhouse gas emitted by human activities. It was responsible for 85% of the increase in radiative forcing – the warming effect on our climate - over the decade 2002-2012.
Between 1990 and 2013 there was a 34% increase in radiative forcing because of greenhouse gases, according to the latest figures from the U.S. National Oceanic and Atmospheric Administration (NOAA).
According to WMO's Greenhouse Gas Bulletin, the amount of CO2 in the atmosphere reached 393.1 parts per million in 2012, or 141% of the pre-industrial level of 278 parts per million. The amount of CO2 in the atmosphere has increased on average by 2 parts per million per year for the past 10 years.
Since 2012, all monitoring stations in the Arctic have recorded average monthly CO2 concentrations in spring above 400 ppm, according to data received from Global Atmosphere Watch stations in Canada, the United States of America, Norway and Finland.
This trend has now spread to observing stations at lower latitudes. WMO's global observing stations in Cape Verde, Germany, Ireland, Japan, Spain (Tenerife) and Switzerland all reported monthly mean concentrations above 400 ppm in both March and April.
In April, the monthly mean concentration of carbon dioxide in the atmosphere passed 401.3 at Mauna Loa, Hawaii, according to NOAA. In 2013 this threshold was only passed on a couple of days. Mauna Loa is the oldest continuous CO2 atmospheric measurement station in the world (since 1958) and so is widely regarded as a benchmark site in the Global Atmosphere Watch.
The northern hemisphere has more anthropogenic sources of CO2 than the southern hemisphere. The biosphere also controls the seasonal cycle. The seasonal minimum of CO2 is in summer, when substantial uptake by plants takes place. The winter-spring peak is due to the lack of biospheric uptake, and increased sources related to decomposition of organic material, as well as anthropogenic emissions. The most pronounced seasonal cycle is therefore in the far north.
The WMO Global Atmosphere Watch coordinates observations of CO2 and other heat-trapping gases like methane and nitrous oxide in the atmosphere to ensure that measurements around the world are standardized and can be compared to each other. The network spans more than 50 countries including stations high in the Alps, Andes and Himalayas, as well as in the Arctic, Antarctic and in the far South Pacific. All stations are situated in unpolluted locations, although some are more influenced by the biosphere and anthropogenic sources (linked to human activities) than others.
The monthly mean concentrations are calculated on the basis of continuous measurements. There are about 130 stations that measure CO2 worldwide.
Reuters, 26 May
A spreading Alaskan wildfire has forced the evacuation of about 1,000 buildings but firefighters have gained ground by containing about 30 percent of the wind-driven blaze, a U.S. Forest Service spokesman said on Monday.
Statement of the Joint PAS/PASS Workshop on Sustainable Humanity, Sustainable Nature: Our Responsibility
Stabilizing the Climate and Giving Energy Access to All with an Inclusive Economy
Humanity has entered a new era. Our technological prowess has brought humanity to a crossroads. We are the inheritors of two centuries of remarkable waves of technological change: steam power, railroads, the telegraph, electrification, automotive transport, aviation, industrial chemistry, modern medicine, computing, and now the digital revolution, biotechnologies and nanotechnologies. These advances have reshaped the world economy into one that is increasingly urban and globally connected, but also more and more unequal.
However, just as humanity confronted "Revolutionary Change" (Rerum Novarum) in the Age of Industrialization in the 19th century, today we have changed our natural environment to such an extent that scientists are redefining the current period as the Age of the Anthropocene, that is to say an age when human action, through the use of fossil fuels, is having a decisive impact on the planet. If current trends continue, this century will witness unprecedented climate changes and ecosystem destruction that will severely impact us all.
Human action which is not respectful of nature becomes a boomerang for human beings that creates inequality and extends what Pope Francis has termed "the globalization of indifference" and the "economy of exclusion" (Evangelii Gaudium), which themselves endanger solidarity with present and future generations.
The advances in measured productivity in all sectors – agriculture, industry and services – enable us to envision the end of poverty, the sharing of prosperity, and the further extensions of life spans. However, unfair social structures (Evangelii Gaudium) have become obstacles to an appropriate and sustainable organization of production and a fair distribution of its fruits, which are both necessary to achieve those goals. Humanity's relationship with nature is riddled with unaccounted for consequences of the actions each of us take for both present and future generations. Socio-environmental processes are not self-correcting. Market forces alone, bereft of ethics and collective action, cannot solve the intertwined crises of poverty, exclusion, and the environment. However, the failure of the market has been accompanied by the failure of institutions, which have not always aimed at the common good.
Problems have been exacerbated by the fact that economic activity is currently measured solely in terms of Gross Domestic Product (GDP) and therefore does not record the degradation of Earth that accompanies it nor the abject inequalities between countries and within each country. The growth in GDP has been accompanied by unacceptable gaps between the rich and the poor, who still have no access to most of the advancement of the Era. For example, about fifty-percent of available energy is accessed by just one billion people, yet the negative impacts on the environment are being felt by the three billion who have no access to that energy. Three billion have so little access to modern energy that they are forced to cook, heat and light their homes with methods dangerous to their health.
The massive fossil fuel use at the heart of the global energy system deeply disrupts the Earth's climate and acidifies the world's oceans. The warming and associated extreme weather will reach unprecedented levels in our children's life times and 40% of the world's poor, who have a minimal role in generating global pollution, are likely to suffer the most. Industrial-scale agricultural practices are transforming landscapes around the world, disrupting ecosystems and threatening the diversity and survival of species on a planetary scale. Yet even with the unprecedented scale and intensity of land use, food insecurity still stalks the planet, with one billion people suffering from chronic hunger and another billion or so suffering from the hidden hunger of micronutrient deficiencies. Tragically, a third of the produced food is wasted, which as Pope Francis said is "like stealing from the table of the poor and the hungry".
In view of the persistence of poverty, the widening of economic and social inequalities, and the continued destruction of the environment, the world's governments called for the adoption by 2015 of new universal goals, to be called Sustainable Development Goals (SDGs), to guide planetary-scale actions after 2015. To achieve these goals will require global cooperation, technological innovations that are within reach, and supportive economic and social policies at the national and regional levels, such as the taxation and regulation of environmental abuses, limits to the enormous power of transnational corporations and a fair redistribution of wealth. It has become abundantly clear that Humanity's relationship with Nature needs to be undertaken by cooperative, collective action at all levels – local, regional, and global.
The technological and operational bases for a true sustainable development are available or within reach. Extreme poverty can be ended through targeted investments in sustainable energy access, education, health, housing, social infrastructure and livelihoods for the poor. Social inequalities can be reduced through the defense of human rights, the rule of law, participatory democracy, universal access to public services, the recognition of personal dignity, a significant improvement in the effectiveness of fiscal and social policies, an ethical finance reform, large scale decent work creation policies, integration of the informal and popular economic sectors, and national and international collaboration to eradicate the new forms of slavery such as forced labor and sexual exploitation. Energy systems can be made much more efficient and much less dependent on coal, petrol and natural gas to avoid climate change, protect the oceans, and clean the air of coal-based pollutants. Food production can be made far more fruitful and less wasteful of land and water, more respectful of peasants and indigenous people and less polluting. Food wastage can be cut significantly, with both social and ecological benefits.
Perhaps the greatest challenge lies in the sphere of human values. The main obstacles to achieving sustainability and human inclusion are inequality, unfairness, corruption and human trafficking. Our economies, our democracies, our societies and our cultures pay a high price for the growing gap between the rich and the poor within and between nations. And perhaps the most deleterious aspect of the widening income and wealth gap in so many countries is that it is deepening inequality of opportunity. Most importantly, inequality, global injustice, and corruption are undermining our ethical values, personal dignity and human rights. We need, above all, to change our convictions and attitudes, and combat the globalization of indifference with its culture of waste and idolatry of money. We should insist upon the preferential option for the poor; strengthen the family and community; and honor and protect Creation as humanity's imperative responsibility to future generations. We have the innovative and technological capability to be good stewards of Creation. Humanity needs urgently to redirect our relationship with nature by adopting the Sustainable Development Goals so as to promote a sustainable pattern of economic development and social inclusion. A human ecology that is healthy in terms of ethical virtues contributes to the achievement of sustainable nature and a balanced environment. Today we need a relationship of mutual benefit: true values should permeate the economy and respect for Creation should promote human dignity and wellbeing.These are matters on which all religions and individuals of goodwill can agree.
These are matters that today's young people around the world will embrace, as a way to shape a better world. Our message is one of urgent warning, for the dangers of the Anthropocene are real and the injustice of globalization of indifference is serious. Yet our message is also one of hope and joy. A healthier, safer, more just, more prosperous, and sustainable world is within reach. The believers among us ask the Lord to give us all our daily bread, which is food for the body and the spirit.
Signatories
PASS President Prof. Margaret Archer
Prof. Vanderlei S. Bagnato
Prof. Antonio M. Battro
Dr. Lorenzo Borghese
Prof. María Verónica Brasesco
Prof. Joachim von Braun
Prof. Edith Brown Weiss
Dr. Pablo Canziani
Marco Casazza
Prof. Paul Crutzen
Aisha Dasgupta
Prof. Sir Partha Dasgupta
Prof. Gretchen Daily
Prof. Pierpaolo Donati
Prof. Gérard-François Dumont
Prof. Ombretta Fumagalli Carulli
Juan Grabois
Prof. Allen Hertzke
Prof. Vittorio Hösle
Prof. Daniel Kammen
Emily Kelly
Prof. Charles Kennel
Dr. Anil Kulkarni
Prof. Yuan T. Lee
Prof. Pierre Léna
Prof. M. Ramón Llamas
Prof. Karl-Göran Mäler
Dr. Marcia McNutt
Prof. Dr. Jürgen Mittelstrass
Prof. Walter Munk
Prof. Naomi Oreskes
Alicia Peressutti
Dr. Janice Perlman
Prof. Vittorio Possenti
Prof. Ingo Potrykus
Prof. V. Ramanathan
Prof. Sir Martin J. Rees
Dr. Daniel Richter
Prof. Ignacio Rodríguez-Iturbe
Prof. Louis Sabourin
Prof. Jeffrey Sachs
Msgr. Marcelo Sánchez Sorondo
Prof. Bob Scholes
Matthew Siegfried
Prof. Hanna Suchocka
Prof. Govind Swarup
Msgr. Mario Toso
Prof. Rafael Vicuña
Prof. Peter Wadhams
Prof. Dr. Hans F. Zacher
Prof. Stefano Zamagni
Sustainable Humanity, Sustainable Nature: Our Responsibility

Joint Workshop of the Pontifical Academy of Sciences and the Pontifical Academy of Social Sciences, 2-6 May 2014
What is the status of the Human Person in a world where science predominates? How should we perceive Nature and what is a good relationship between Humanity and Nature? Should one expect the global economic growth that has been experienced over the past six decades to continue for the foreseeable future? Should we be confident that knowledge and skills will increase in such ways as to lessen Humanity's reliance on Nature despite our increasing economic activity and growing numbers? Is the growing gap between the world's rich and world's poor in their reliance on natural resources a consequence of those growths?
Contemporary discussions on the questions are now several decades old. If they have remained alive and are frequently shrill, it is because two opposing empirical perspectives shape them. On the one hand, if we look at specific examples of what one may call natural capital, there is convincing evidence that at the rates at which we currently exploit them, they are very likely to change character dramatically with little advance notice. The melting of glaciers and sea-ice are recent symptoms. On the other hand, if we study trends in food consumption, life expectancy, and recorded incomes in regions that are currently rich and in those that are on the way to becoming rich, resource scarcities wouldn't appear to have bitten so far.
"Environmental problems" and "future prospects" present themselves in different ways to different people. Some identify environmental problems with population growth, while others identify them with wrong sorts of economic growth. There are those who see environmental problems as urban pollution in emerging economies, while others view them through the spectacle of poverty in the world's poorest countries. Some allude to "sustainable development" only when considering economic development in the global economy, while others see it in terms of the development prospects of villages in sub-Saharan Africa. Each of the visions is correct. We know that what begins as urban pollution becomes layers of atmospheric brown clouds (ABCs), containing black carbon particles and ozone, that annually destroy some 2 million lives and over 100 million tons of crops, disrupts the Monsoon circulation and contribute to the melting of arctic ice and the Himalayan snow. There is no single environmental problem, there is a large collection of interrelated problems. Some are presenting themselves today, while others are threats to the future. Although growth in industrial and agricultural pollutants has accompanied economic development, neither preventive nor curative measures have kept pace with their production in industrialized countries. That neglect is now prominent in the rapidly growing regions in Brazil, Russia, India, China, and South Africa (BRICS). Moreover, the scale of the human enterprise has so stretched the capabilities of ecosystems, that Humanity is today Earth's dominant species. During the 20th century world population grew by a factor of four (to more than 6 billion) and world output by 14, industrial output increased by a multiple of 40 and the use of energy by 16, methane-producing cattle population grew in pace with human population, fish catch increased by a multiple of 35, and carbon and sulfur dioxide emissions by more than 10. It is not without cause that our current era has been named the Anthropocene.
On the other hand, economic growth has brought with it improvements in the quality of a number of environmental resources. The large-scale availability of potable water and the increased protection of human populations against both water- and air-borne diseases in advanced industrial countries have come allied to the economic growth those countries have enjoyed over the past 200 years. Increases in scientific knowledge, investment in public infrastructure, and universal education in advanced industrial countries have meant that citizens there have far greater knowledge of environmental hazards than their counterparts in poor regions. They also have resources to avoid them.
Many people are convinced that scientific and technological advances, the accumulation of reproducible capital, growth in human capital, and improvements in the economy's institutions can overcome diminutions in natural capital. Otherwise it is hard to explain why so much of the social sciences in the 20th century has been detached from the environmental sciences. Nature is all too often seen as a backdrop from which resources and services can be drawn in isolation. Macroeconomic forecasts routinely exclude natural capital. Accounting for Nature, if it comes into the calculus at all, is usually an afterthought. The rhetoric has been so successful, that if someone exclaims, "Economic growth!", one does not need to ask, "Growth in what?" – we all know they mean growth in gross domestic product (GDP). The rogue word in GDP is "gross". GDP, being the market value of all final goods and services, ignores the degradation of natural capital. If fish harvests rise, GDP increases even if the stock declines. If logging intensifies, GDP increases even if the forests are denuded. And so on. The moral is significant though banal: GDP is impervious to Nature's constraints. There should be no question that Humanity needs urgently to redirect our relationship with Nature so as to promote a sustainable pattern of economic and social development.A Proposal
Rio+20 Summit on biodiversity preservation was convened to provide a resolution to the problems Humanity faces in our interchanges with Nature. In practical terms though, it is widely acknowledged to have been a failure.
Looking through its programme it is hard to detect an overarching intellectual framework that was used to identify Nature's constraints. The lacuna was inevitable. There was no collective endeavour among natural and social scientists. That is why we are proposing a joint PAS-PASS workshop on Sustainable Humanity, Sustainable Nature.
Our idea is not to catalogue environmental problems. We propose instead to view Humanity's interchanges with Nature through a triplet of fundamental, but inter-related Human needs – Food, Health, and Energy – and ask our respective Academies to work together to invite experts from the natural and the social sciences to speak of the various pathways that both serve those needs and reveal constraints on Nature's ability to meet them.
P.S. Dasgupta, V. Ramanathan, R. Minnerath
ParticipantsWerner Arber
Margaret S. Archer
Scott Barrett
Antonio Battro
Enrico Berti
Joachim von Braun
Edith Brown Weiss
Yves Coppens
Paul J. Crutzen
Gretchen Daily
Partha S. Dasgupta
Pierpaolo Donati
Gérard-François Dumont
Mary Ann Glendon
Juan Grabois
Daniel Kammen
Charles Kennel
Nancy Knowlton
Anil Kulkarni
Yuan Tse Lee
Pierre Léna
Juan J. Llach
Jane Lubchenco
Karl-Goran Maler
Source: Pontifical Academy of Social Sciences - http://www.casinapioiv.va/content/accademia/en/events/2014/sustainable.html
Jane C. Timm, MNSBC, 22 May 2014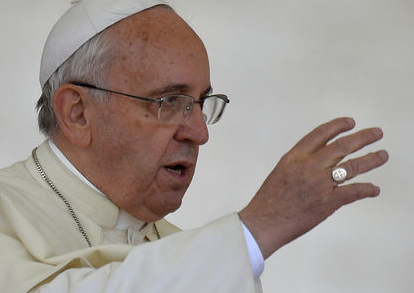 Pope Francis made the biblical case for mitigating the effects of climate change, speaking to a massive crowd in Rome.
In his brief speech, Francis issued a dire warning about the effects of climate change.
"Safeguard Creation," he said, according to Think Progress, "because if we destroy Creation, Creation will destroy us! Never forget this!"
"Creation is not a property, which we can rule over at will; or, even less, is the property of only a few: Creation is a gift, it is a wonderful gift that God has given us, so that we care for it and we use it for the benefit of all, always with great respect and gratitude," Francis said.
In the address, the Pope said destroying the Earth is a sin.
"But when we exploit Creation we destroy the sign of God's love for us, in destroying Creation we are saying to God: 'I don't like it! This is not good!' 'So what do you like?' 'I like myself!' – Here, this is sin! Do you see?"
The remarks come at the end of a six-day conference on climate change and sustainability at the Vatican, where scientists, economists, philosophers, and legal scholars met to discuss what the Church could do to address the issues caused by climate change. The Catholic Church has a long history of activism on behalf of the environment and Francis appears to be upping those efforts.
The remarks are the latest in a stream of liberal statements by Francis, who famously said "who am I to judge?" about a gay priest and recently argued for wealth redistribution.
AAP, Sydney Morning Herald, 23 May
A major German bank won't consider funding a controversial Queensland coal port expansion because it says there isn't consensus over how it will impact the Great Barrier Reef.
Deutsche Bank confirmed its position on Wednesday night (Australian time) at its AGM in Germany in front of environmentalists and tour operators.
"As there is clearly no consensus between the Australian government and UNESCO regarding the impacts of the Abbot Point expansion on the reef we will not consider financial applications of an expansion," meeting co-chair Juergen Fitschen said.
The expansion involves dumping three million tonnes of dredge spoil within the marine park.
A bank spokesman confirmed to AAP that Deutsche wouldn't consider any request to finance the expansion unless it was assured the project wouldn't adversely affect the reef.
The United Nation's environment arm, which has said it is considering listing the reef as a World Heritage site in danger, said earlier this month it regretted the federal government's decision to approve the dredging project without properly assessing alternatives.
Greenpeace and the Australian Marine Conservation Society are hopeful the move will put pressure on international and Australian banks to reject investment in developments that may impact the reef.
The green groups say Deutsche Bank has bowed to public pressure after 180,000 Germans signed a petition urging the bank not to fund the expansion.
Environmentalists claim dumping the spoil offshore will damage marine life and expanding the port will turn the reef into a shipping super-highway.
The dredge spoil will be dumped 40 kilometres from the nearest coral reef.
The expansion, which has been given approval on all levels, will turn Abbot Point into one of the world's largest coal ports.
The federal government has said the expansion was approved with some of the strictest environmental conditions ever imposed, while developers have said the dredge spoil will have little impact on marine life.
Deutsche Bank was one of three banks that last year helped Abbot Point leaseholders refinance leases on the existing 30-year-old terminal at Abbot Point.
by Ed King, rrtc.org, 22 May 2014
Board agree eight essential requirements, meaning GCF is now ready to start accepting funds from donors
The UN's flagship climate fund could start investing in clean energy projects as early as 2015 after its board agreed how it will operate and who it will work with.
Four intense days of discussion in Songdo, South Korea ended in agreement by the 24-strong board on eight 'essential requirements' for the fund to come online.
These included safeguards to ensure it makes socially and environmentally sound investments, together with guidelines on who can distribute money from the GCF, and how much control countries will have over projects it backs.
Speaking from Songdo, Marcela Jamarillo, a climate finance expert from the London-based E3G thinktank, said the meeting had broadly been a success.
"The fund is ready – it has the basic elements. There is a lot of work to do in the details ahead of the next board meeting in October, but I think it is ready for those pledges to start coming in," she said.
The focus will now turn to how the GCF will get any money.
Branded "too big to fail" by Denmark's National Bank Governor Per Callesen, a board member, currently it has no reserves to invest in 'green' projects, and is relying on donor countries to hand it billions of dollars.
Leading climate change economist Lord Stern recently told RTCC trillions of dollars are needed to invest in low carbon infrastructure in the developing world.
Who the pledges will come from and when they will be delivered is likely to be the subject of future fierce arguments.
http://www.rtcc.org/2014/05/21/uns-green-climate-fund-finalises-operating-procedures/#sthash.f4e0nSuc.dpuf

JEFFREY SACHS: Well I think the Government is right now afraid of this topic and it's a huge mistake because Australia is the fourth-largest coal reserve country in the world. It's a major coal exporter. It is the eighth-largest CO2 emitting economy in the world. Australia can't say: sorry, we're just not interested.
Australia can provide true global leadership right now and that is to mobilise, together with the other major coal economies, a massive effort on testing - and hopefully proving - the carbon capture and sequestration technology, because that is the only way that Australia is going to be able to use its coal at a large scale in the years and decades to come.
Put in real money, probably $20 to $30 billion I would say, minimum, to get scaled, serious demonstration programs working in China, in India, in Australia, in Canada, in the United States and to test the geology and the engineering of this technology.
(Don't forget Sachs' recommendations destroyed the Russian economy)
Comments from the Adaptation Futures Conference - Third International Climate Change Adaptation Conference, in Brazil, 12-16 May 2014.
KEY EMERGENT ISSUES ON CLIMATE CHANGE AND ADAPTATION
Update on key emerging climate change and impacts science, including the latest on future extremes, sea level change, water supplies and landscape transformation: How will uncertainties change in the coming decade?
Communicating climate risks to facilitate adaptation: What do people want and need to know and how best to understand and deliver information?
Building adaptive capacity: Communities, institutions, and individuals lack sufficient capacity for implementation; What are the most effective ways to build capacity? What type of investments in capacity are appropriate and what scale of decision-making should be targeted?
General public framing of climate change: their inclusion is key in adaptation processes and there is a need for further exploring this topic. This includes studies such as framing analysis, perception, mental models, value systems or discourse analysis of the media.
Sustainable adaptation consider which are the possible repercussion adaptation strategies and practices have for sustainability. Not every adaptation practice is a good one, more attention is required therefore in practice that contribute to social (climate) justice and environmental integrity.
Urban resiliency and adaptation strategies including Urban Governance
Community Based Adaptation: local level adaptation efforts and lessons from vulnerable communities in both developing as well as developed countries.
Examples of adaptations through case studies and best practices, including costs and benefits of implementing these options: What can we learn from past adaptations to environmental change? How can we foster adaptations to futures characterized by surprise, non-linear change and unexpected consequences?
Explore monitoring and evaluation frameworks and results for adaptation in the context of scaled up funding for climate change adaptation and increasing implementation practices. This can draw on the wider lesson from the M&E of R&D and development agencies.
Adaptation to 4 degrees Celsius warming: As mitigation options are exhausted or delayed how might we face the challenges of adapting to 4 degrees C of warming?
FINANCIAL ASPECTS
Tracking adaptation finance: lessons from tracking and monitoring finance across international and national scales
Microfinance for ecosystem-based adaptation: How microfinance help reduce local vulnerability at a scale that matters? What, where, and how?
Funding priority research and adaptation: Who pays, and for what, where, and how?
Enabling legal frameworks and institutional capacity to strengthen countries' "readiness" to receive and manage significantly greater domestic and international flows of climate change finance: How estrategies based on barriers assessments and environmental innovativation can be implemented by different countries?
REGIONAL AND NATIONAL ADAPTATION EXPERIENCES
Regional studies: Where are the places and people most vulnerable to climate change? What are their adaptation options and strategies for implementation?
National experiences: Living and with drought in the Northeast Brazil region: the Brazilian experience.
Seasonal climate-hydrological extremes in semiarid regions: Are we adapted?, how policy making can Interact with scientific studies in order to adapt to seasonal and long term droughts-floods on the region?
Sectoral and integrated cross-sectoral adaptation planning: national examples
Adaptation-development nexus in coastal-delta regions as well as rapidly growing urban areas. The nexus of development and security particularly in arid and semi-arid conflict-prone regions
National Adaptation Plans: global UNFCCC mandate and national experience- role of institutions and governance at different levels
TOOLS FOR ADAPTATION
Methodologies and results of vulnerability and impact assessments in the Latin American and Caribbean region and tools and methods for adaptation assessments: What approaches, tools, and methods are available for analising climate change vulnerability and impact and adaptation strategies.? How do we judge their effectiveness? How do we know whether investments in adaptive capacity and adaptation are working?
Mapping climate impacts and vulnerability including scenarios/information analysis, interpretation, reporting and use, development and use of socio-economic scenarios for vulnerability & adaptation assessment
Science-policy interface in adaptation; generating and providing climate and socio-economic information for adaptation
Incorporating results of climate change vulnerability and impact assessment into national, sectoral and local adapation planning and public budgetting processes-mainstreaming tools and methods: experiences from national governments and development agencies